SYLCOM version 1.5.4
Data Processing Software
Since its launch, Sylcom has continued to evolve to offer more and more features.

The available Sylcom versions have been harmonized and are now as follows: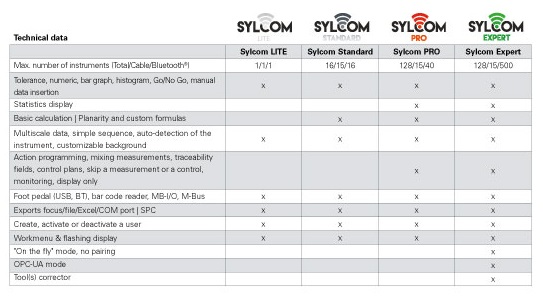 What's new in version 1.5.4 ?
Advanced Version
The Advanced version has been removed, the features of this version have been divided between the STANDARD and PRO versions.

M-Bus modules connection now available in the STANDARD version for 16 instruments.

The formula editor and the flatness measurement are now available in the STANDARD version.

To connect more than 16 instruments, the PRO version is now required.
Expert Version
The EXPERT version will be the subject of a separate communication shortly.
More functionalities and benefits SYLCOM 1.5.4
4 versions available: Sylcom LITE, STANDARD, PRO and EXPERT.
The main new features at a glance :
Bluetooth connection window showing instrument names (all versions)




Choice of instrument compatibility via colour coding (all versions)




Sampling control (Pro and Expert)




Pre-positioning of the Hi_Cal measuring probe in the control plan (Pro and Expert)




New functions (Hold ON/OFF and Continue actions) in the "Program" tab (Pro and Expert)




Individually editable preset (Pro and Expert)




SPC export with choice of values to export (Pro and Expert).
Dowload Document detaild information >>Click<<
Download the latest version of Sylcom 1.5.4 << Click!!