SyncScan
Brand : SIUI (china made )
---------------------------------------
Superior Features: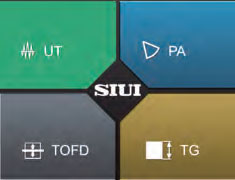 High IP Rate: IP65

Light Weight: 3.75 kg with battery

Large Touch Screen: 8.4" LCD with resolution 800 x 600 pixels

Upgradeable from conventional UT to Phased Array TOFD with powerful optional software functions.


SyncScan carries many basic and advanced functions to make ultrasonic testing more convenient.

Basic Functions:
Velocity+Zero Calibration / Angle Calibration / DAC / AVG(DGS) / Full Screen A Scan / Coordinates switch (sound path, depth, horizontal) / Surface-compensation (xx+xxdB) / Auto Freeze / Second leg color / Auto Gain / Wave Compare / Wave Filling / Peak Envelope / Screenshot.
Advanced Functions:
API, TCG, AWS, CSC, B-Scan, Flat Weld Groove (RayTracing), Crack Height Measurement, Probe Spectrum Analysis and Cineloop.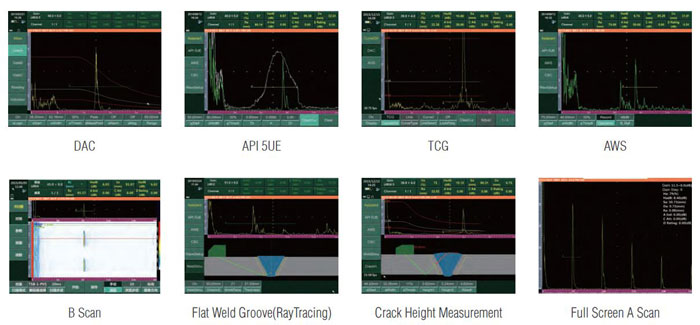 Thickness Measurement
Advanced function to achieve CoatTHK, Echo to Echo, B-scan, V Path, TDG, Temp and Multi-layer Measurements.

Phased Array
Calibration Wizard
To facilitate phased array operators, SyncScan carries calibration wizard with a step-by-step menu to improve calibration speed and accuracy.

Calibration wizard is used to calibrate key performance parameters of phased array including velocity, delay, sensitivity and TCG.

Step-by-step menu guide operators are used to calibrate velocity, delay, sensitivity and TCG.

Smart wizard can guide operators to finish imaging setup easily and improve inspection speed.
SyncScan features phased array group functions for: butt weld inspection, corrosion solution, mapping and composite material inspection, angle weld solution for angle welds on ocean platforms and oil & gas steel structures and flat weld groove function. Furthermore, simultaneous inspection of phased array and TOFD can increase productivity in various inspection situations.


With SyncScan, one phased array probe can be designated for up to six groups for different inspection. For one phased array probe, multi groups of elements and different angles can be applied for scanning at the same time, fully covering the weld area and enhancing inspection efficiency.

Two phased array probes can work simultaneously with phased array group functions to inspect both sides of the weld, therefore enhancing the inspection efficiency and speed.

This function simulates flat plate workpiece geometry, including beam coverage simulation and imaging parameter settings. With this function, operators will find it easy to analyze, locate flaw signals and make sure each part of the test piece meets industrial welding standards.
Flat Weld Solution
This solution is suitable for flat butt weld and pipe girth weld inspection.
This software can automatically simulate various welds with different groove types, to make weld simulation closer to the on-site weld shape.

To satisfy operators' application requirements, SIUI designed the professional wizard operation mode, to help operators finish phased array setup (including beam coverage simulation) quickly.

Flaw measurement, assisted positioning (RayTracing) and report generation are included.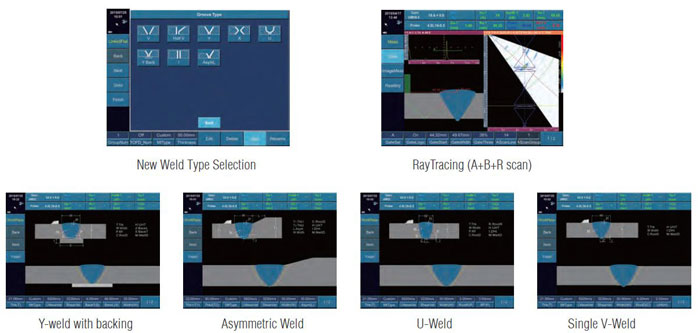 Eight types of weld grooves can be simulated, including: V-groove, Half V-groove, Y-groove, X-groove, U-groove, I-groove, Y-groove with backing and Asymmetric Welds.

This software provides quick setup of weld parameters including thickness, material type, groove width, root clearance, up / down reinforcements, fusion simulation and heat-effected zone, as well as workpiece edit, delete, add and rename.



Angle Weld Solution
Angle Weld software is suitable for angle welds on ocean platforms and oil & gas structures.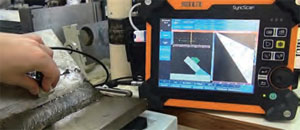 This software can automatically simulate the real angle weld shape based on a few parameter inputs.

It can simulate sound beam coverage over six different probe positions to satisfy various on-site applications.

When the RayTracing function is on, the software can auto analyze and judge the workpiece flaw situation, record the flaw image and measurement results and generate test reports.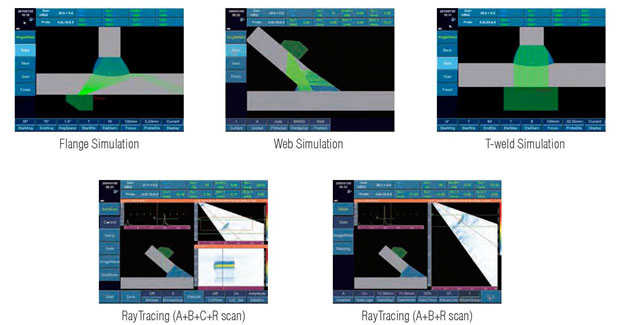 Small Pipe Girth Weld Solution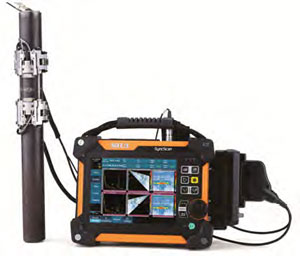 This software is suitable for testing welds of smaller diameter pipes with outside diameters ranging from 0.83" - 4.52" / 21 - 115 mm.

By offering features like V-groove and Y-groove weld making, beam coverage simulation, as well as inserted wedge and link assembly guide tables, this software helps users to finish testing small diameter pipes quickly.


Simultaneous Phased Array and TOFD inspection can expand scanning coverage and decrease undetected rate.

Conforming to ASTM E2491, this software achieves auto testing of phased array equipment for its element activity. It measures activity of all the elements and acoustic energy uniformity of the phased array probe.

Corrosion Solution

Chain Phased Array Crawler (XY axis) Corrosion Solution
Easy to work out scan plan for pipeline corrosion inspection.

Step-by-step wizard can guide operators to finish setup easily and improve inspection speed.

Different thicknesses will be displayed in different colors, making it easier to determine the corrosion situation for the pipe. Data analysis is available for better understanding of the degree of corrosion.
Image Measurement & Report Generation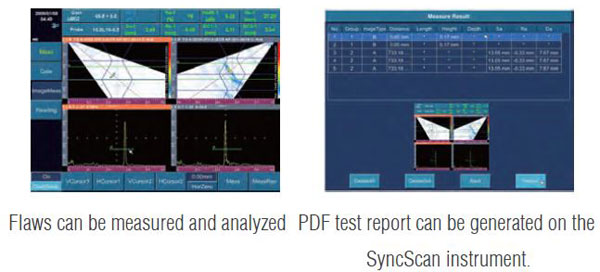 A-scan signal waveform and information (angle, south path, amplitude and depth) for any position on the scan figure can be displayed in real time and the operators may use two cross cursors to measure flaw length and height on the B / C / D scans. The measurement results and flaw images can be saved for generating test reports automatically.




Performs straightening, filter, local zoom, contrast adjustment, gain post processing and SAFT on the TOFD image.
Easy to use interface makes workpiece, probe, wedge, encoder and storage management more convenient.

When using workpiece management mode, the shape of the workpiece is simulated and detailed parameters are listed for reference.

The operator can manage probe and wedge parameters via the probe and wedge management.

By following wizard, the operators can finish encoder simple operations, calibrate and test quickly.

Parameters, screenshots and data can be easily managed in the storage management to enhance the inspection efficiency.