SyncScan 2
Brand : SIUI (china made )
---------------------------------------
Maximize Your Efficiency
SyncScan 2 is a high-end 32:128PR PAUT flaw detector with optional 2-ch TOFD,
which can maximize your efficiency for PA and TOFD.
Light weight: 4kg only including battery.

Faster scan speed (Approximately 3 meters/minute).

Removable electric fan: cool down the system when in high temperature.

1 or 2 ch-TOFD for your selection by license activation.

Support UT/PA/TOFD, suitable for weld, forging and plate inspection.

32-channel PA is more suitable for inspection on extra-thick wall and high-attenuation material.

32-channel PA and 2-channel TOFD work simultaneously on pressure vessel inspection(TOFD can measure thickness up to 100mm).

Support pitch and catch (PR) mode, corrosion inspection with dual linear array probe.
Overview

Advanced Software
Various workpieces and weld types for selection according to different on-site application.

Multi-view mode helps to locate defects more easily.
PAUT & TOFD inspection enhances the testing efficiency.

Customized color map to visualize different wall thickness.

Suitable for Different Applications
PA inspection on tube, forged piece, bar, casting, weld, composite material, railway and alloy steel.

TOFD inspection on weld of plate, pipeline, tank and boiler.

PA, TOFD and conventional ultrasonic testing in various industries such as transportation, petrochemical engineering, machinery, metallurgy, railway, shipbuilding, aircraft and building.
PAUT/TOFD Solution for Long-distance Pipeline
For one/dual-side inspection on long-distance pipeline with OD ranging 1000-1300mm in petrochemical industry.
Dual-side PA inspection and PAUT+TOFD inspection for selection.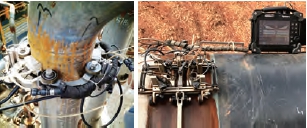 PAUT/TOFD Solution for Medium-to-large-diameter Pipeline
For PAUT inspection of medium and large diameter pipes with OD ranging 100-1000mm in power and petrochemical industries.
Dual-side PA inspection and PAUT+TOFD inspection for selection.
PAUT or TOFD Solution for Small Pipe and Medium Pipe Welds
With 16 or 32 elements low-profile PA probes, suitable for girth welds inspection on small pipe (20.32-114.3mm) and medium pipe(100-300mm). Dual-side PA inspection or TOFD inspection for selection.

PAUT/TOFD Solution for Flat Weld
Compatible with different crawlers for various flat weld inspection.

PAUT Solution for Austenitic Weld
With dual matrix array probe for inspecting welds in grainy materials.
Multiple Solutions for Corrosion
PAUT Solution for Corrosion
With corrosion mapping scanner, SyncScan 2 can be used for PA testing on small&medium areas, immersion pipeline.

With free 2D scanner, SyncScan 2 can be used for scanning in any direction in two-dimensional space.

With dual linear array probe, SyncScan 2 can be used for detecting coarse-grained and composite materials with severe attenuation.

Checking data file, Screen capture, Measuring data analysis, Playtback.
Generating test reports in word or excel format.
Several files from corrosion solution can be opened and combined.
Abundant report samples are available.
It can be installed in every operator's laptop without extra cost.