MANUAL / AUTOMATIC METALLOGRAPHIC SPECIMEN CUTTING MACHINE
Model: Q-100B
Brand : CHOTEN

---------------------------------------
Model Q-100B manual / automatic metallographic specimen cutting machine is equipped with big cutting room and movable T-shape work table. Therefore this machine has the ability of cutting rectangle and large specimens. Also the equipped separate type vice is very convenient for operator to clamp various heterotypic work pieces. It is the ideal metallographic specimen preparation equipment to be used in factories, colleges and researching institutes.
Features :
The machine can preset the cutting speed according to different specimens, this will improve the cutting performance and quality of specimen.

Recirculating cooling system can help to cool down the specimen during cutting process so as to avoid burning damage to the organization.

The machine can be operated in manual cutting mode or automatic cutting mode.

Various cutting data can be displayed on high definition backlight type LCD screen.

Delay cutting (for large and hard specimen) and continuous cutting (for small and soft specimen) can be selected.

Automatic withdraw function after cutting is finished

Zero setting for cutting distance to clear empty travel

Equipped with large cooling liquid water tank.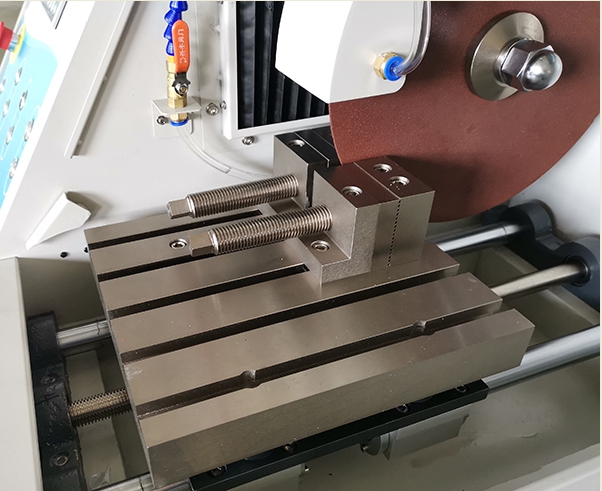 Technical specifications :
| | |
| --- | --- |
| Model | Q-100B |
| Max. cutting diameter | Ø100mm |
| Max. Cutting volume | 100mm x 200mm |
| Main shaft rotating speed | 2200 rpm |
| Automatic cutting speed | 0.1-3.0mm/min. (0.1mm/min. increment) |
| Sand wheel specification | 350 x 2.5 x 32mm |
| Worktable size | 320mm x 300mm |
| Motor power | 3KW |
| Power supply | 380V, 50Hz, three phases |
| Dimensions | 930 x 700 x 610mm |
| Net weight | 220 KG |