BlueLEVEL-2D dual axis inclinometer
Brand : Wyler (swiss made )

---------------------------------------
The perfect dual-axis inclinometer for measuring straightness, parallelism, flatness, squareness, and machine geometry.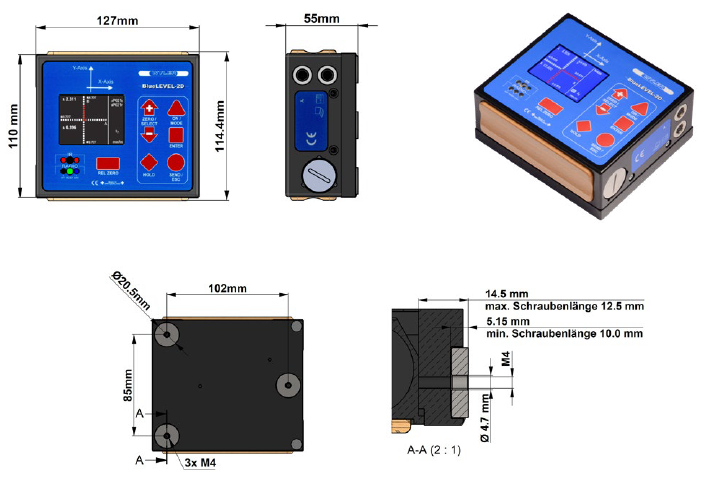 When it comes to efficiently aligning machines in two axes, the BlueLEVEL-2D is the perfect solution. For this application, the BlueLEVEL-2D can be used as a stand-alone instrument or together with the BlueMETER Sigma display unit.

Together with the wylerSPEC software, the BlueLEVEL-2D allows the measurement of straightness or parallelism of machine parts or the measurement of the flatness of e.g. a granite plate. Furthermore, the BlueLEVEL-2D, together with the wylerSPEC software, is very well suited to measuring pitch and roll of a machine.

This opens new applications and facilitates the alignment of machines and tools substantially:
Efficient measurement of flatness and machine geometriy, like Pitch and Roll

Alignment of machines in two directions simultaneously

Alignment of reference plates

Pitch and roll measurement on machines

Alignment of cranes, containers, trucks etc.

Monitoring of cranes, containers, trucks etc.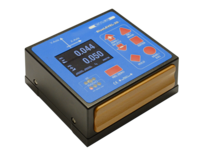 The inclination measuring instrument BlueLEVEL-2D has the following features:
Rugged, rust-protected housing made of aluminium

High precision bases with three inserts made of hardened steel Ø 20mm with one M4 thread each

Large and very easy-to-read color display

Various display methods can be chosen

Wireless communication, based on Bluetooth technology

All current units can be indicated

The instrument is compatible with the full range of WYLER digital sensors

Powered by standard 1.5V batteries, rechargeable batteries or with main adapters

The internal software allows a simple zero setting, using a reversal measurement

Fulfils the strict CE- / FCC requirements (immunity / emission electromagnetic smog)

Options:

External power supply 24V

Cable to connect the instrument to a PC

Software to collect measuring data

Various attachable measuring bases on special request, like e.g. prismatic, varioBASE-2D

Graphical 2D-display

The 2D-display shows graphically the position of an object in space, respectively the change of its position, and makes the information easily understandable.

This substantially facilitates the alignment of e.g.
a machine

a reference plate

etc.
The following parameters (among others) can be set and changed on the BlueLEVEL-2D:
It is possible to send the measured data via an RS232 port to a PC/laptop and therewith to the WYLER software wylerSPEC, wylerCHART and wylerDYNAM.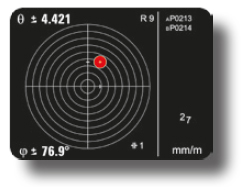 BlueLEVEL-2D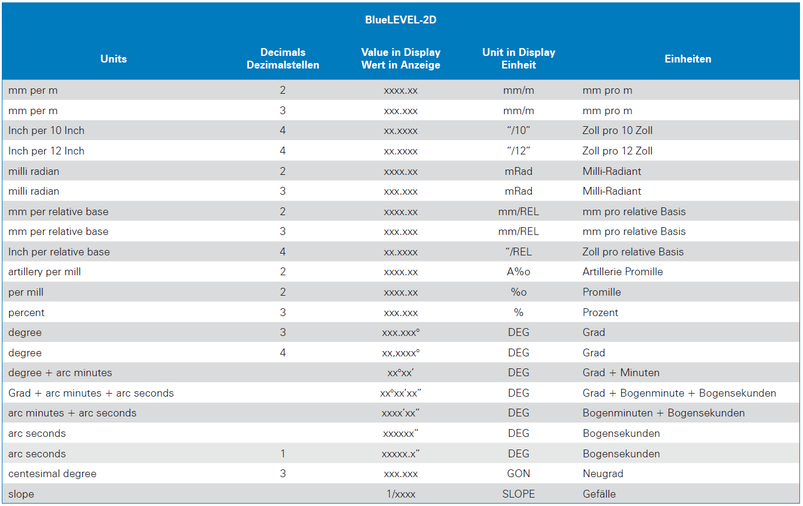 BlueMETER SIGMA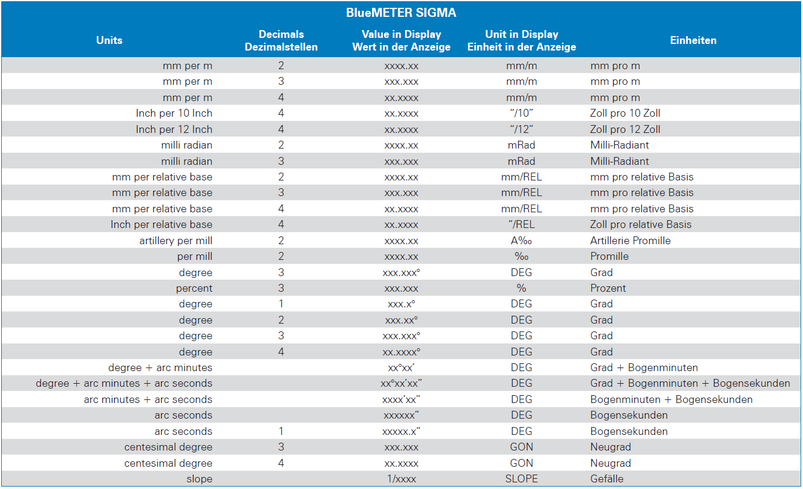 Calibration Certificate:

The BlueLEVEL-2D can be delivered with an internationally recognised Calibration Certificate against a surcharge
BlueLEVEL-2D dual axis inclinometer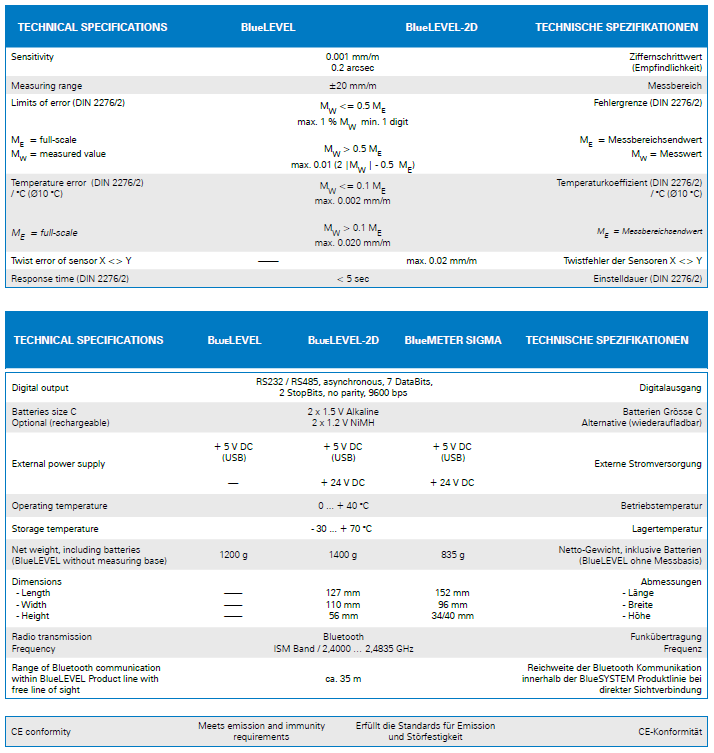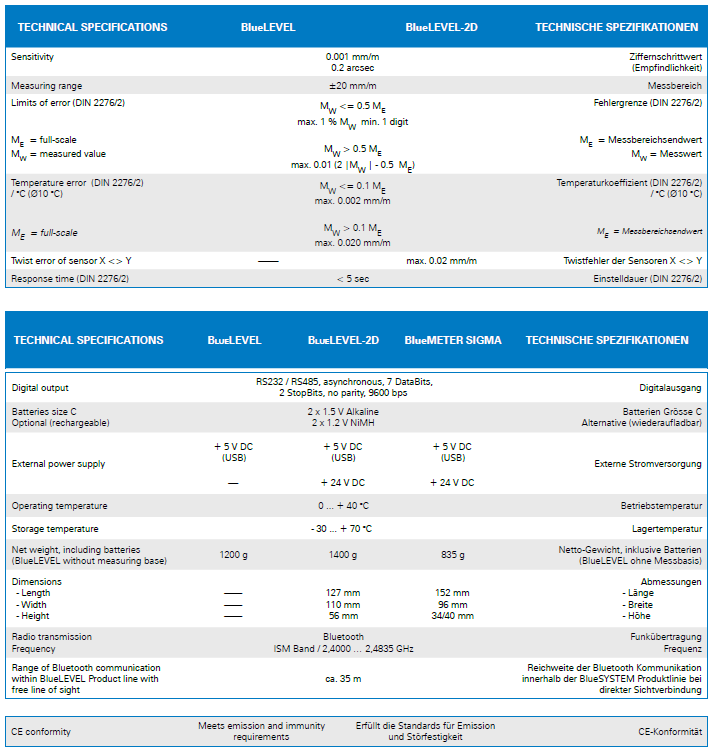 MACHINE TOOLS / CHECKING OF ROTATION ERRORS
Subject:
Machine tools must be checked periodically for geometrical deviations, since changes of the geometry have a direct influence on the quality of the parts manufactured on that machine.

It is very important that during the displacement in one axis the tool will follow a straight path compared to the table. On machines of light-weight construction the table can show a deformation due to its own weight.

If the complete machine construction is tilting during the displacement of the table this is a sign for insufficient stability of the foundation or for a flexibility of the stand (damping elements).
Measuring task:
The geometry of a machine tool must be verified. The check must show rotational errors of the table during displacement. The measurement should be made reliably and efficiently.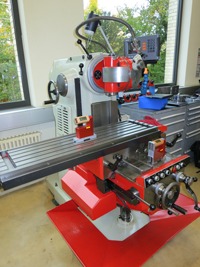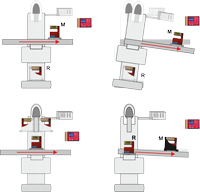 LARGE GRINDING MACHINE WITH FLAT GUIDEWAYS
Subject:
A manufacturer of large metal plates has several large surface grinding machines in his workshop. The geometry of these machines must be checked and documented periodically, and, where required, to be corrected.
Measuring task:
On a surface grinding machine with 18-meter-long guideways, set 1.3m apart, the parallelism of the two guideways must be checked periodically. The guideways must be within a plane with a maximum tolerance (error) of less than 0.1 mm. The complete machine and its guideways can be adjusted by means of supporting screws placed at 750 mm intervals.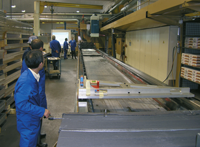 MEASUREMENT OF PITCH AND ROLL ON A GRINDING MACHINE
Subject:
A manufacturer of large metal plates has several large surface grinding machines in his workshop. The geometry of these machines must be checked and documented periodically, and, where required, to be corrected.
Measuring task:
On a large surface grinding machine with guide ways with a length of 18m pitch and roll must be checked. The maximum tolerance is 0.1 mm/m.
PITCH AND ROLL MEASUREMENT WITH 2D-ZEROTRONIC MEASURING UNIT AND MT-SOFT-SOFTWARE
Subject:
Alignment of a turning lathe with an oblique bed and establishing a pitch and roll measuring protocol for the longitudinal and transversal axis.
Measuring task:
The machine should first be very accurately levelled in both X- and Y-direction.

Afterwards a pitch and roll measuring report with numerical and graphical information is required.